The Charger Success Plan: Building student hope and efficacy through grading practices
Model Program Description
The Irvine Unified School District leadership began a new systemic initiative to train IUSD teachers in a Professional Learning Community (PLC) model of collaboration with a focus to achieve the district's philosophy to provide the "highest educational experience we can envision".  While the initiative is district-wide, individual school sites determine the best practices to align with the district vision based upon the individual needs of the students and the mission of the school. 
At Sierra Vista, this work translates into dedicated application of the PLC model in fulfillment of our site goals, which were developed to align with the State of California Local Control Accountability Plan (LCAP) priorities, and the IUSD LCAP goals.  Sierra Vista teachers participated in staff development opportunities on a variety of topics related to PLC work over the past two years.  Together, the staff determined our top priorities and designed goals toward implementation of our vision – to build student hope and efficacy through the implementation of grading practices designed to lessen student stress and allow opportunities for students to demonstrate mastery of academic content.  While all subject areas are currently implementing these new practices, the math PLC team was the first to begin implementation during the 2017 – 2018 academic year.
Local Control Accountability Plan (LCAP)
Sierra Vista's plan aligns with three of the State of California LCAP priorities: #2 (Academic Standards), #4 (Student Achievement) and #6 (School Climate).  Our plan also aligns with two of IUSD's LCAP goals: #1 (Ensure all students obtain proficiency in the current content standards) and #3 (Cultivate a positive school culture and system of supports for student personal and academic growth).  SVMS teachers used several data points to determine the top priorities of our students.  These included data from the California dashboard, IUSD's Annual Survey, individual teacher designed surveys related to student's willingness to take academic risks, student reports of stress and lost hope and efficacy, and student academic grades. 
Data analysis
California Dashboard:  In 2017, SVMS students in mathematics scored 74.6 points above standard, in the green (second tier) performance band.  The 2018 outcomes show growth to 75.3 points above standard and movement to the blue (first tier) performance band.  Students met or exceeded the state standard both years and scored at or above the district average and double the score of the state average student.
IUSD Annual Survey:  The Annual Survey data was a critical component of our decision-making process as student well-being, especially for middle school students is a top priority.  What we found, based upon student reports of their personal beliefs, clearly represented a need for action by the staff.  Here are some relevant results from the past three years, 15-16, 16-17, and 17-18 using a Likert scale of responses "agree" and "strongly agree".
"Mistakes are part of students' learning process."  91%, 76%, 73%
"Students feel comfortable making mistakes at my school."  54%, 43%, 38%
"The level of stress that students feel is generally low."  33%, 32%, 29%
"Teachers provide students with the opportunity to show what they have learned through a variety of activities."  88%, 89%, 85%
Student academic math grades:  While the majority of SVMS students perform academically at high levels, there are students who have been less successful.  The new grading practices are designed to focus on closing the gap for these underperforming students.
The data revealed that while the majority of SVMS students are performing academically at high levels, the well-being of many students is not being met when using the gap data in the areas of stress and student willingness to make mistakes in order to learn.  The question we asked ourselves was, how can we change our practices to build student hope and efficacy, reduce stress to promote wellness, and maintain high academic performance?  From this question each teacher and department developed goals. The math department goals:  Goal #1 - "To incorporate student self-assessment into instruction to determine their strengths and areas of growth relevant to critical math standards by assisting students to monitor, control and regulate their own learning.  This includes being able to answer for themselves the question "What did I do well, where do I need to improve, and how do I do it?"  Goal #2 – "To increase student hope and efficacy by adopting a class structure that allows all assignments and work to be revised and turned in once mastery of a concept is shown."
Implementation 
The math department began implementation during the 2017-18 academic year.
1.  Develop departmental agreements regarding grading practices and providing opportunities for student academic support. For the math department success plan, click HERE.
2.  Communicate to parents and students about grading practices including requirements for classwork, homework, assessments, grade reporting and academic support.
3.   Identify Learning Targets from the California State Standards and use them to create common assessments.
4.  Teach students to use the tool designed for them to assess their own learning.
5.  Teachers meet weekly to analyze student outcomes and develop support opportunities.
School wide implementation of student supports include:
1.  Tutorial is provided for 30 minutes embedded in the academic schedule Monday – Thursday.
2.  Academic Advantage (afterschool small group instruction and support) is provided for 60 minutes twice a week in the areas of mathematics, Language Arts, and homework help.
3.  School Success is an elective course for students who need additional support in the areas of organization, study skills, and homework help.
4.  NJHS tutoring is available for students who have an interest in working with a peer from National Junior Honor Society.
5.  Individual teachers offer support for students before and after school as well as during lunchtime.
6.  Report Card comment codes were updated to align with grading/assessment changes.
7.  Speak Up We Care is a campaign underway at all IUSD schools designed to enhance student wellness.  At SVMS we have provided students with a variety of activities geared toward the promotion of wellness including month long themes in the areas of anti-bullying, cyber safety, and kindness. Click HERE to see our Be Kind Charger Chat.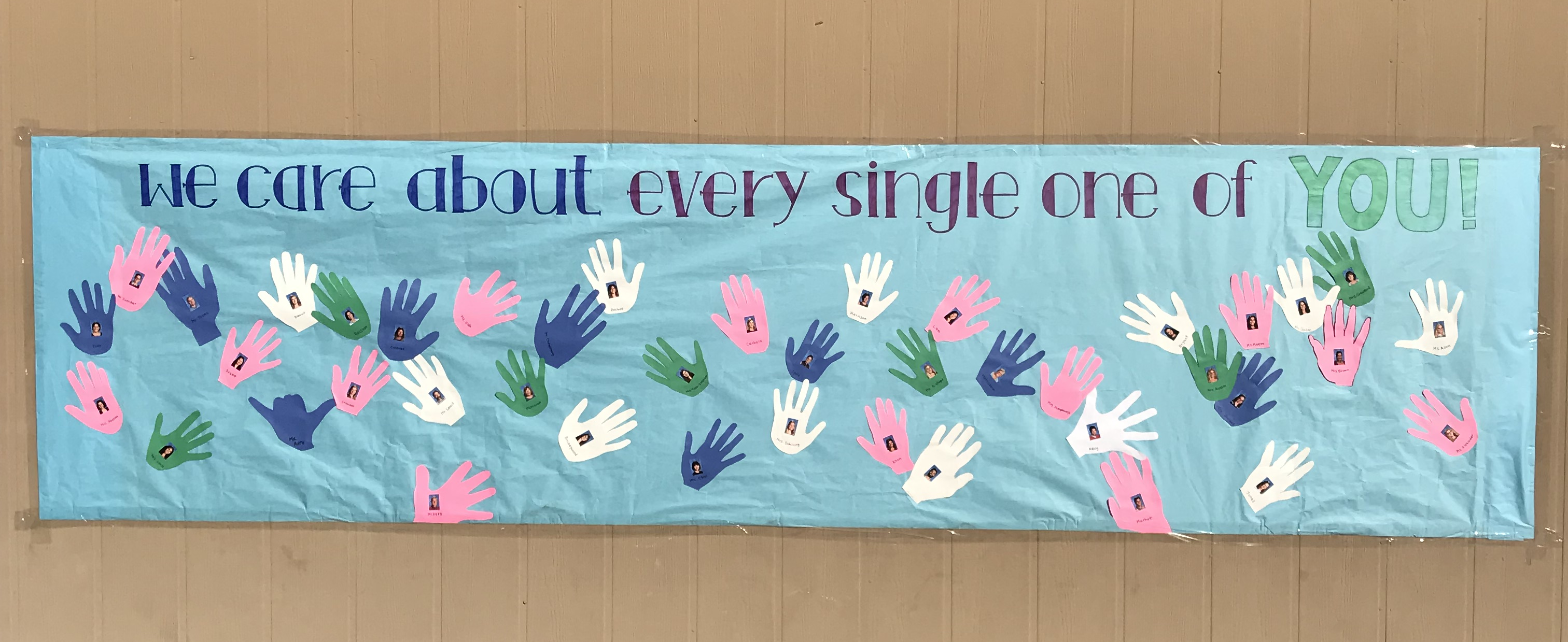 Results and Outcomes
Early results indicate that student performance in mathematics is improving from the prior year.  The attached grade report indicates that 50% fewer students earned a failing grade during the second trimester of the current school year than in the previous year and all students showed an upward trend.  Additionally, the attached chart shows student responses to the latest survey which indicate their efficacy in math has improved as they report feeling prepared for the next level of math.  The full extent of performance growth will be validated when the spring State Standardized testing results are analyzed.  Efforts to close the gap between student's reported belief that making mistakes is an important part of the learning process and their willingness to make mistakes, along with their reports regarding stress, will be analyzed when the Annual Survey results become available this spring.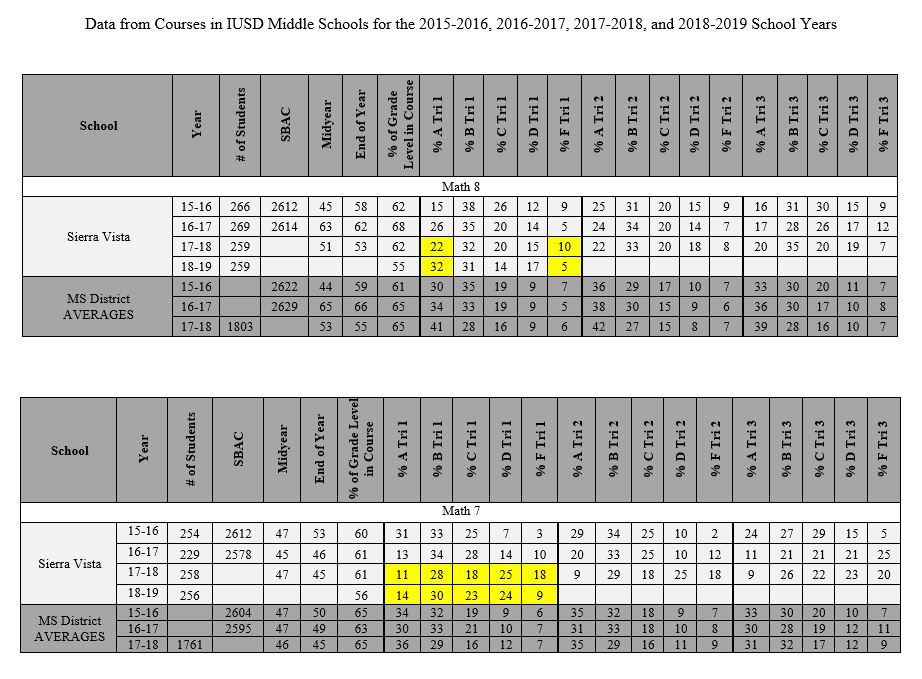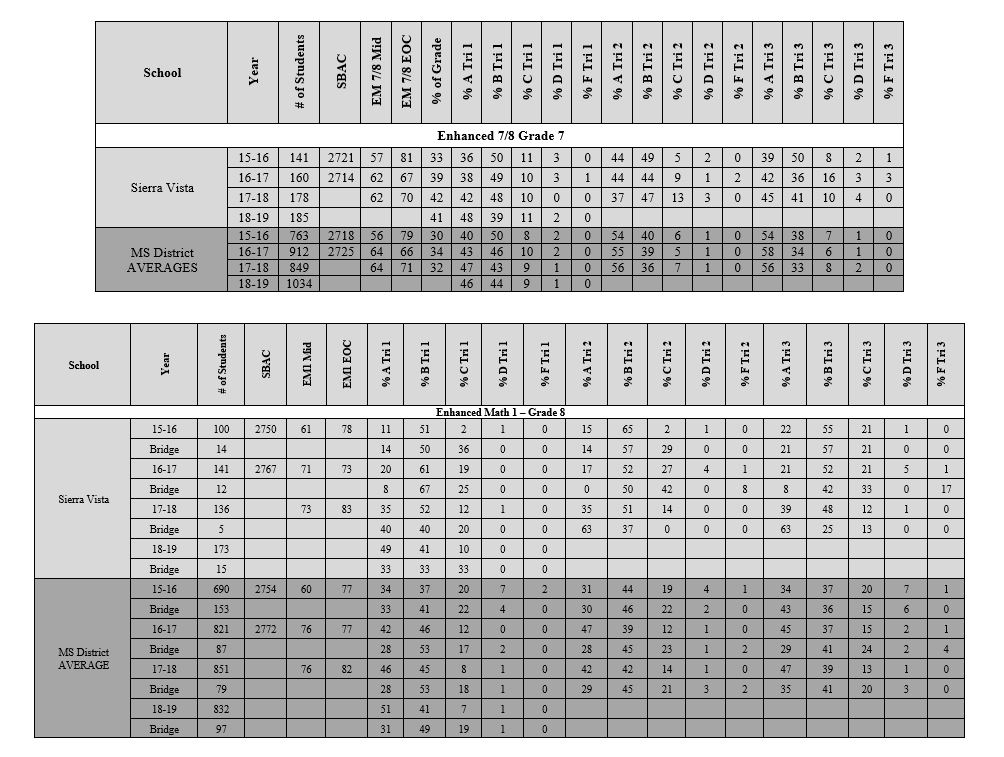 Math survey results addressing efficacy: