Enrollment for new students
New to the district? Please Complete the IUSD district enrollment process by clicking here. To complete STEP 3 of the enrollment process, please call the front office at the school to make an appointment.
Registration for Existing Students
Incoming 7th grader information
Data Confirmation
Data Confirmation will open July 15th! Please read carefully the important information below as it outlines the steps for successful completion of student Data Confirmation. For the best user interface, please use Google Chrome as your browser on a desktop or laptop computer. Safari Internet Browser and mobile devices are not always compatible with Aeries Parent Portal.  Remember to PRINT the Health Conditions Form on the "Documents" tab and the TICKET to Registration Form on the "Final Data Confirmation" tab where is says "here".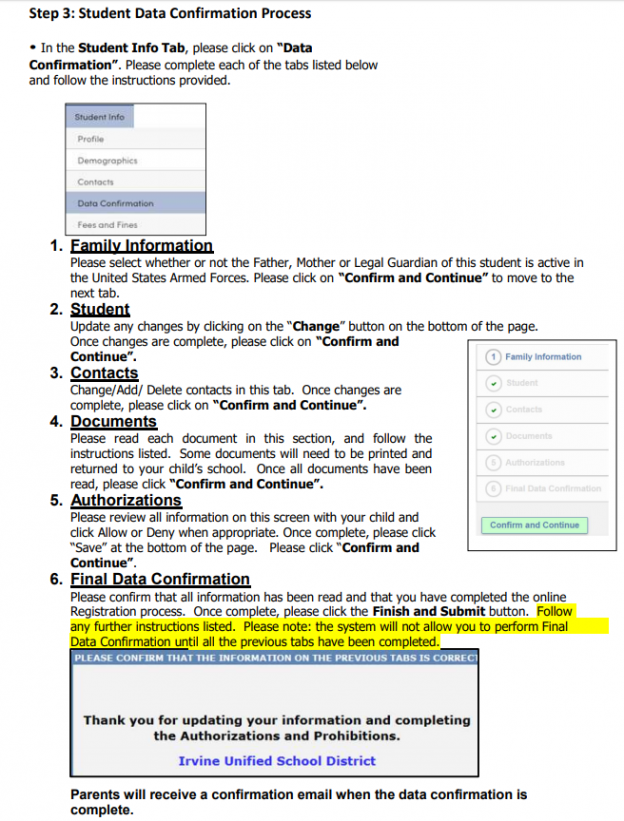 Registration
2019-20 REGISTRATION DAY
Tuesday, August 13th
Registration Day will get you and your child prepared for the upcoming school year. All students will have their yearbook picture taken , receive their ID card, receive their tentative course schedule, may purchase P.E. clothes, yearbooks, and SVMS Dance Party Pass, PTSA memberships, and will pick up their Charger Planner and more. You won't want to miss the action!
IMPORTANT:
PRIOR TO REGISTRATION DAY, Registration forms will be available via Parent Portal starting July 15th.  You must complete the online Data Confirmation BEFORE you can complete the in-person registration on August 13th.  You must also bring a completed Health & Information Card AND Ticket to Registration before you can register.




Schedule for Registration Day (Tuesday, 8/13)

Helpful tip: Bring a bag or backpack to carry PE clothes, other items, and important papers.

7th Graders

(by Student LAST name)

8th Graders

(by Student LAST name)

A - G 8:00 - 9:00am

A - M 12:30 - 1:30pm

H - P 9:00 - 10:00am

N - Z 1:30 - 2:30pm

Q - Z 10:00 - 11:00am
 
Unable to attend Registration Day on August 13th?
Make-up Registration: Please complete this LINK if you will NOT be available to attend Registration Day on August 13th.  Late Registration will begin August 15th.  Additionally, you will need to bring all the registration materials to the front office between 8 AM - 3:00 PM  (Office will be closed between 12 -1 pm).  
If you do not plan to attend Sierra Vista Middle School, please call the school at
(949) 936- 6600 as soon as possible.
Residency Verification
The Irvine Unified School District will once again require residency verification for all IUSD students enrolling for the 2019-20 school year. This process is an annual legal requirement in California and it helps our district ensure that all available resources are spent efficiently and effectively to the benefit of our Irvine families. Moreover, these additional steps will help provide a full and precise accounting of our student population as we review staffing for the coming year.
By completing the following forms for each of your students, you will be making a formal declaration that your child lives within IUSD's attendance boundaries.
School websites have electronic versions of the documents available as part of the residency verification process. Also, hard copies are available at the school site upon request. For your added convenience, the forms are also linked above and attached to this email, allowing you to fill them out and print them at home. Completed residency forms should be turned in to your child's Homeroom teacher by March 29th. A list of acceptable documents included on the Residency Verification Form can also be found by clicking here.
For additional information, please contact the Sierra Vista Front Office.